(FULL) WORKSHOP: 水彩入門基礎課程 Ultimate Beginners Introduction to Watercolor (February 18, 2023, 1:30-5:30pm)
by RAINB.W
Regular price

$126.00
Sale price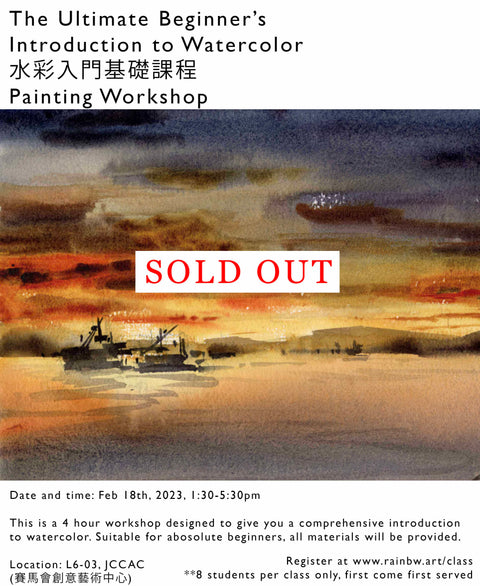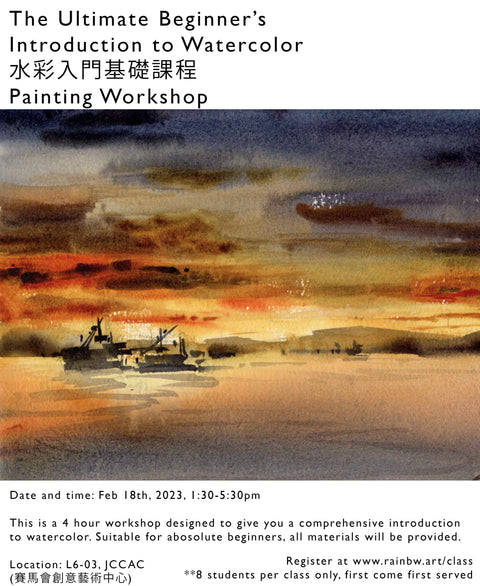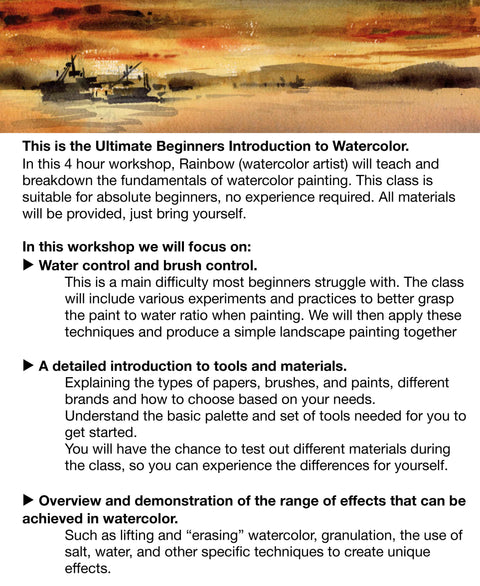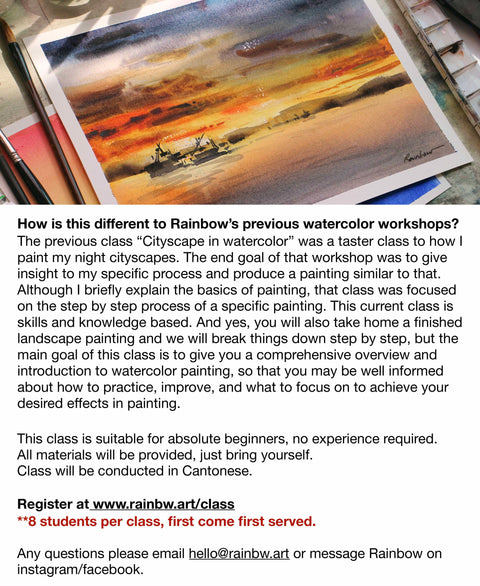 Update: Thank you to those who registered, this class is now full. If you are interested in taking this class, please click here: https://forms.gle/KBEn3QcrGiYYfCc98
水彩入門基礎課程
This is the Ultimate Beginners Introduction to Watercolor.

 
In this 4 hour workshop, Rainbow (watercolor artist) will teach and breakdown the fundamentals of watercolor painting. This class is suitable for absolute beginners, no experience required. All materials will be provided, just bring yourself.
In this workshop we will focus on:

Water control and brush control.

 

This is a main difficulty most beginners struggle with. The class will include various experiments and practices to better grasp the paint to water ratio when painting. We will then apply these techniques and produce a simple landscape painting together.
A detailed introduction to tools and materials.

Explaining the types of papers, brushes, and paints, different brands and how to choose based on your needs.

Understand the basic palette and set of tools needed for you to get started.

You will have the chance to test out different materials during the class, so you can experience the differences for yourself.
Overview and demonstration of the range of effects that can be achieved in watercolor.

Such as lifting and "erasing" watercolor, granulation, the use of salt, water, and other specific techniques to create unique effects.
This workshop is for you if…
You are serious about wanting to learn watercolor, but don't know how or where to start.

Your painting often result in puddles of water, no matter what you do.

You feel lost in all the different types of papers, brushes and paints when you're at the art shop, and don't know what you need.
By the end of the workshop you will…
Take home a finished landscape painting + multiple small painting practices

Gain a better understanding of water control, brush control, and paint to water ratio

Know what you need to start your watercolor journey, what to look for the next time you are at the art shop.
How is this different to Rainbow's previous watercolor workshops?
The previous class "Cityscape in watercolor" was a taster class to how I paint my night cityscapes. The end goal of that workshop was to give insight to my specific process and produce a painting similar to that. Although I briefly explain the basics of painting, that class was focused on the step by step process of a specific painting. This current class is skills and knowledge based. And yes, you will also take home a finished landscape painting and we will break things down step by step, but the main goal of this class is to give you a comprehensive overview and introduction to watercolor painting, so that you may be well informed about how to practice, improve, and what to focus on to achieve your desired effects in painting. This is everything I wish I learned in a single class when I was starting painting as a beginner.
This class is suitable for absolute beginners, no experience required. All materials will be provided, just bring yourself. Class will be conducted in Cantonese.
Date and Time:
February 18th, 2023 (Saturday), 1:30-5:30pm. 
Location:
L6-03, JCCAC (賽馬會創意藝術中心)
30 Pak Tin Street, Shek Kip Mei, Kowloon, Hong Kong (Shek Kip Mei MTR Station Exit C, 5-8 mins walk)
**8 students per class, first come first served. Any questions please email hello@rainbw.art
You will receive an email confirmation from Rainbow within 24-48 hours of purchase. Class payment is nonrefundable, it can be transferred to another person if you cannot make it on that day. Please email me if you have any concerns.