(FULL) WORKSHOP: 城市夜景水彩工作坊 Light and Color in Night Cityscapes - Watercolor Workshop (June 17 2023, Class B)
by RAINB.W
Regular price

$126.00
Sale price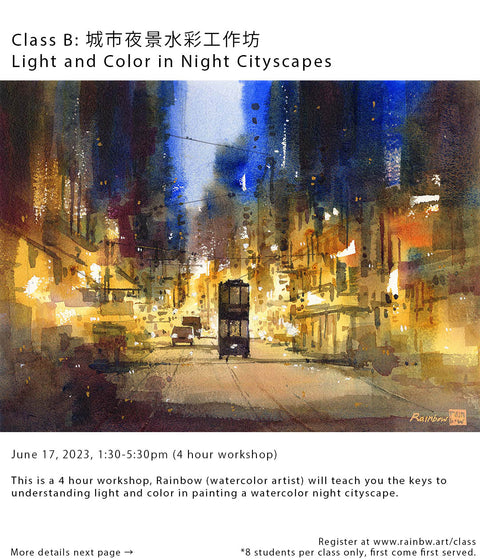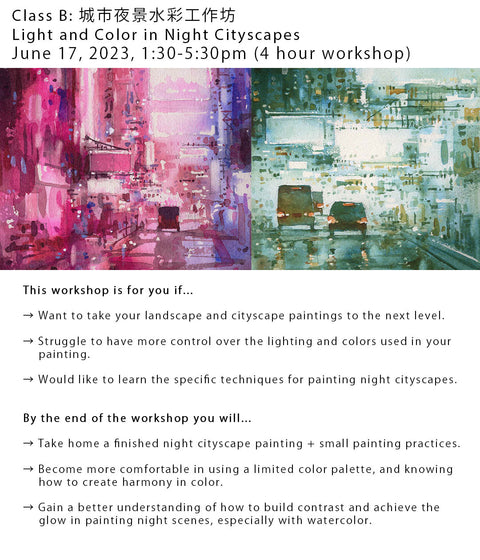 Light and Color in Night Cityscapes - A Watercolor Workshop

城市夜景水彩工作坊: 光影和色彩

This is a 4 hour workshop, Rainbow (watercolor artist) will teach you the keys to understanding light and color in painting a watercolor night cityscape.

In this workshop we will focus on:
Understanding light and value
Light and value creates depth in the painting, it is a crucial element that separate paintings from being 'ok' to great.

We will learn how to identify light sources from reference photos and apply that to our composition.

Learn how to build contrast, and more importantly how to achieve the glow in painting night scenes.
Understanding color
Color is where we have more freedom to experiment, show personality or convey mood in the painting. A common difficulty in painting is not knowing what colors to use and how to move beyond what we see in the reference photo.

We will learn the various ways of organizing colors, and picking color combinations that go in harmony.

Learn to use a limited palette in painting.
A step by step breakdown of painting a night cityscape in watercolor
How do you paint a night scene with a medium as transparent as watercolor?

We will breakdown the specific process of a night cityscape and step by step paint it together.

I will share with you the specific techniques and apply the things we learned about light and color to this process.

Class structure:
The class will be split into two parts.
Part ONE is knowledge and skills based. (Demonstrations and small practices aimed to help you better understand light and color.)

Part TWO is about application. (Painting a night cityscape painting together.)
This workshop is for you if…
Want to take your landscape and cityscape paintings to the next level.

Struggle to have more control over the lighting and colors used in your painting.

Would like to learn the specific techniques for painting night cityscapes.
By the end of the workshop you will…
Take home a finished night cityscape painting + small painting practices.

Become more comfortable in using a limited color palette, and knowing how to create harmony in color.

Gain a better understanding of how to build contrast and achieve the glow in painting night scenes, especially with watercolor.
How is this different to Rainbow's previous watercolor workshops?
This is an improved version of the previous class "Cityscape in watercolor". In addition to providing insight to my specific process and doing a step by step night cityscape together, we will dive deeper into the knowledge of light and color in painting through additional demonstrations and practices. My goal is to help you understand these foundational concepts so that you can better apply them to your own paintings after the workshop. Once you know the key elements of what to look for and focus on, you can improve your results on any landscape or cityscape painting.
This class is suitable for individuals with basic knowledge in watercolor. All materials will be provided, just bring yourself. Class will be conducted in Cantonese and supplemented with English if we have English speaking students.


Date and Time:
June 17th, 2023 (Saturday), 1:30-5:30pm.
Location:
L6-03, JCCAC (賽馬會創意藝術中心)
30 Pak Tin Street, Shek Kip Mei, Kowloon, Hong Kong (Shek Kip Mei MTR Station Exit C, 5-8 mins walk)
**8 students per class, first come first served. Any questions please email hello@rainbw.art
You will receive an email confirmation from Rainbow within 24-48 hours of purchase. Class payment is nonrefundable, it can be transferred to another person if you cannot make it on that day. Please email me if you have any concerns.